2 Things To Be Improved For A Successful B2B Lead Generation Effort
Generating quality leads on a regular basis is a tricky job, you must take care of a lot of things to make b2b lead generation campaign success.
A hard fact top lead generators like The Global Associates must face is that only a handful of leads and a handful of employees actually contribute in the success of their B2B lead generation effort. Just a small percentage of your employees work hard to make your B2B lead generation campaign more efficient and effective, and similarly, only a very small percentage of leads get closed into deals while most promising opportunities are nipped in the bud. The key lies in tightening up your belt to maximize your profits and minimize this wastage of employee potential and opportunities.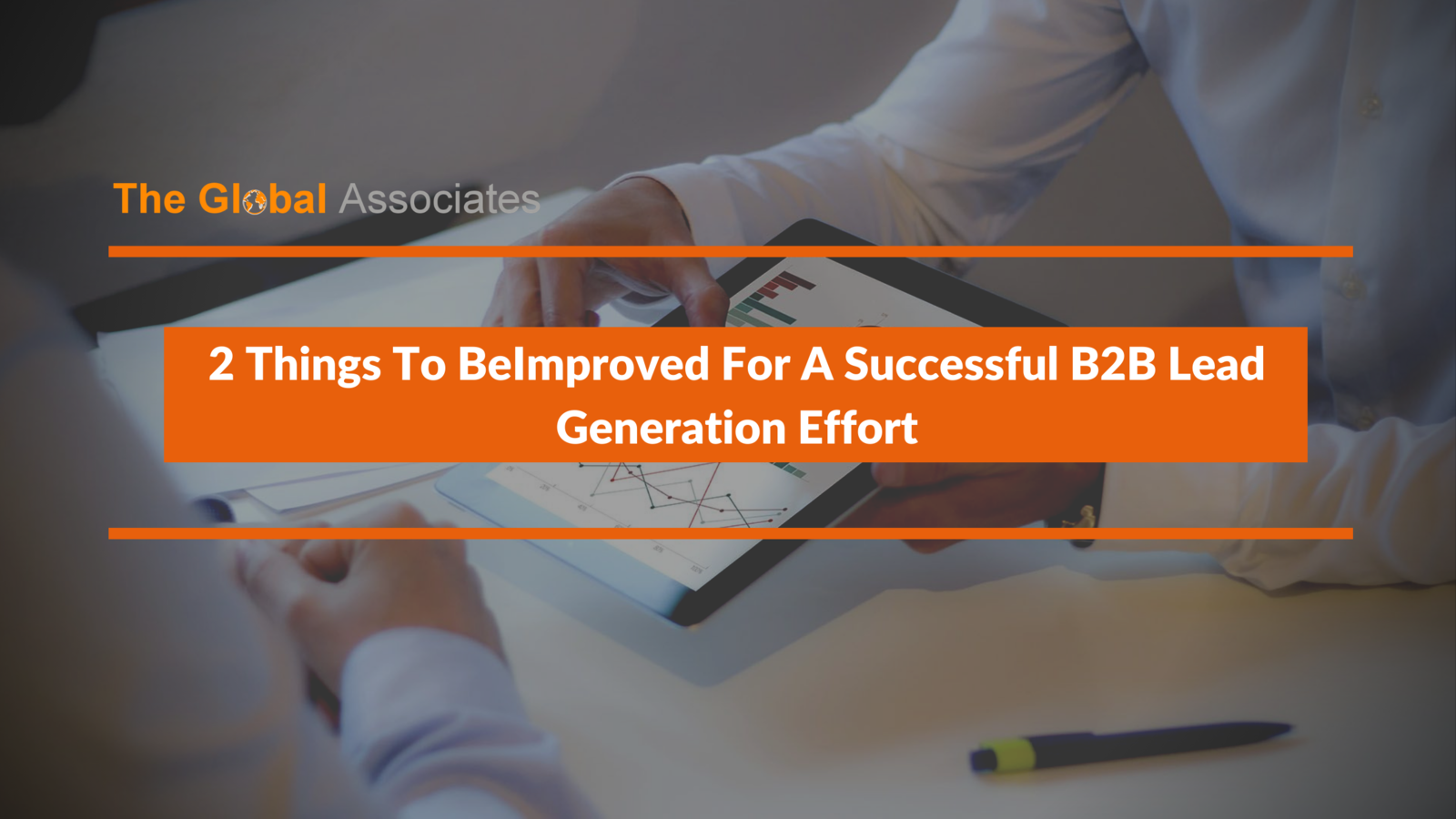 Following are some useful tips to achieve this objective:
Maximizing employee potential
If only a small group of your executives is responsible for boosting your B2B lead generation effort, you must adopt a two-pronged strategy to improve things. On one hand, the best performing employees must be rewarded suitably; on the other hand, the less performing employees must be given training to improve their performance.
Maximizing lead conversion
This again is vital for improving the financial health of the organization. A two-pronged strategy will work wonders here as well. To begin with, look at the back end of your sales process and determine how many deals you are actually closing. If the results are not very encouraging, Train your executives to be more skillful and empathetic, and devise effective business strategies to be able to convert more deals. Now, look at the front end of your sales process to gauge how many leads are actually reaching the proposal stage. You must certainly work on this aspect if most of the leads are getting terminated during the initial stage itself. Ensure that more leads are nurtured and get to the proposal stage, this will give you a better chance to closing more deals.
You must constantly strive to improve every aspect of your working in order to make your B2B lead generation campaign a great success. Your strategy should include working on nurturing sales leads, trying to convert more leads into deals and imparting regular training to make your employees better and more efficient.
https://theglobalassociates.com/3-strategies-for-lead-generation-companies-to-efficiently-deal-with-the-gatekeepers/
https://theglobalassociates.com/3-factors-lead-generation-services-must-take-care-of-to-be-more-efficient/
https://theglobalassociates.com/3-strategies-for-customer-advocacy-marketing-outsource-lead-generation/
https://theglobalassociates.com/4-essential-elements-lead-generation-companies-must-take-care-of/
https://theglobalassociates.com/3-essential-qualities-lead-generation-services-need-to-enter-the-big-league/